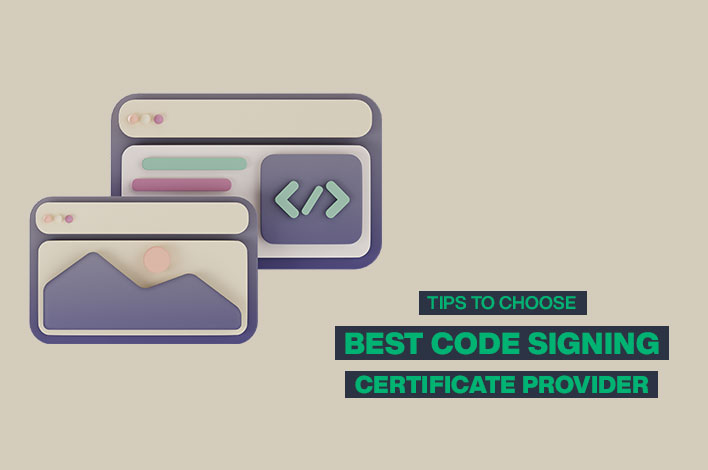 To safeguard the executable files and optimize their legitimacy, publishers utilize the Code Sign Certificate Solution. It helps to hash and digitally sign source code, leading the operating system to recognize software as a genuine file.
Every individual publisher and organization wants its software to be accepted by the system. Its main reason is to provide a seamless user experience to accelerate productivity and revenue. Hence, the question arises of where a publisher should avail of the best code signing certificate.
We have got the answer to this query. Moving further, you will know the appropriate approach to selecting the best code signing certificate provider.
The Factors to focus on while selecting the best Code Signing Certificate Provider
Whenever you have to undergo the process to discover prominent Code Signing Certificate providers, you should include the following factors:
Range or Variety of Code Signing Certificates
Return on Investment
Popularity of Provider
Availability of Support Services
Timestamping feature
Leverage to limitless signing
Alignment with Industry and Security Standards
Business Legitimacy
Let's have an in-depth understanding of each aspect to avail yourself of the top-notch code sign certificate solution.
Range of Code Sign Certificate Solution
Every business has its individual security requirement, and it is essential to understand whether the provider can fulfill them or not. Moreover, solo publishers need to be more capable of availing of the OV and EV level code signing certificate.
Therefore, whenever you visit the distributor's website, you must check the variety of products.
A reliable Code Signing Certificate distributor will have all the following products:
Individual Code Signing Certificate
Organization Validation Code Signing Certificate
Extended validation Coe Signing Certificate
If you find all these products listed on the vendor's website, you can select them. All your requisites of individual and organizational publisher signing will get fulfilled.
Product Value and ROI
When anyone invests money, a high return on investment is one of the goals. In a Code Signing Certificate scenario, the high return is the assurance of code security and optimization of business legitimacy.
Before finalizing the vendor, you must cross-verify its prices with another vendor. Moreover, you must also analyze the features of certificates available on different websites within the same price range.
As a result, you will get a fair insight into how much you have to invest and what you can expect in return. Furthermore, you will get the most authentic and advanced Software Publisher Certificate at a minimal price, covering all your needs.
Provider Popularity
While analyzing any provider's products, services, and offers, you should also check their popularity. You can view the feedback and opinions of other organizations and individual publishers about their products.
Additionally, you must try to know about their current customers. Further, you can check its ranking among other Code Signing Certificate Providers.
And you can search different articles and blogs, listing the best Code Signing Certificate Providers. If such content showcases the provider's name, you can choose it and purchase your digital certificate. It would help to constantly analyze every online source about that particular vendor to know about it in and out.
Support Service Availability
Support Services must be on your priority list while searching for a Code Signing Certificate Provider. You will discover various distributors offering certificates at low prices, but they don't provide any support. In such cases, if you face any issue, you have to resolve it by yourself.
However, if you purchase a software signing certificate from an authentic provider, you will assuredly get 24/7 support.
As a result, you will have the leverage to contact experts at any time. Besides, you will have the first line of contact to convey your query and get an accurate response in a minimal time.
Timestamping Functionality
Timestamping is a crucial factor and functionality of Code Signing Certificates. It helps the publishers maintain the validity of their software, providing a seamless experience to each end-user.
While assessing the functionalities and features of the certificate, you must focus on timestamping.
Suppose the certificates getting provided by the vendor are assuring timestamping. In that case, it will be a good fit as Code Signing Certificate has a limited validation period, from one to three years. After its expiration, your digital sign gets expired. However, if you utilize the timestamp functionality, the system will treat your software as legitimate, even after the certificate expiration.
In addition to ensuring software authenticity, you will get a high yet reliable return on investment.
Aligning with Latest Industry Standards
Only well-founded providers offer certificates ensuring the latest hashing algorithm.While selecting the provider, you should examine its technology. Most of the distributors display such information on their websites to aware their customers about it.
If your vendor uses advanced security mechanisms and complies with industry standards, you can trust and utilize their products.
Furthermore, getting a certificate from reputed CA's will leverage you to avail the dedicated services. And, you will also have the benefit of getting discounts and other offers on priority. Moreover, systems will recognize your executable file impeccably, and zero warnings will be displayed while running them.
Business Legitimacy
Only some sources are authentic on the internet and provide cutting-edge software publisher certificates. Thus, before finalizing it, you should verify whether it is following all the regulations or not.
For attesting it, you can create a checklist based on the following aspects:
The source's website has an SSL/TLS Certificate.
A contact number and physical address is available on the portal.
All its products are from trusted Certificate Authorities.
Resources for privacy and refund policies are easily accessible.
A dedicated support channel, mail, or interface is available.
The vendor is genuine if you find all the components mentioned above. Therefore, you can purchase the solution in a secure environment.
Limitless Signing Leverage
Most Certificate Authorities offer unlimited signing functionality. It lets the organizations sign as much software they develop until the Code Signing certificate is valid.
It would be best always to check whether the provider is offering it.
Although, if you confirm that your requirements will stay the same, you can select the certificate with limited signing. Otherwise, you should find another supplier, ensuring unbounded executable file signing.
Wrapping Up: Approach to obtaining the Best yet Cheap Code Sign Certificate
While searching across different browsers, you will discover numerous Code Signing Certificate Providers. And, it can become complex to select anyone among them. However, the most appropriate approach to choosing the most reliable provider is to differentiate between them.
You must analyze the products, price, support services, time stamping, and limitations on signing features to understand all the providers thoroughly. It will help you obtain a definite idea of the services and products offered in a particular range. Furthermore, you can utilize all the data to get your final result. As a result, you will have the perfect Code Signing Certificate Provider.