This article will see how to connect to a VPN (Virtual Private Network) on Windows 10.
What is VPN?
A VPN connection provides us secure connection and operates on virtual IPs to access your organization or working place network whenever you are not there. For example, you are in a coffee shop.
How to setup VPN for Window 10?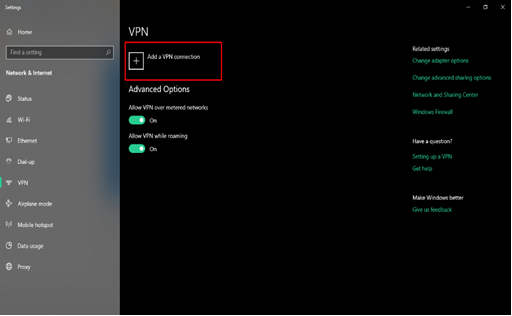 First of all, you must have a VPN profile on your PC. You can also set up your VPN profile on your own or create a work account for VPN from your organization. For more advanced features, performance, privacy, you need to have a third party VPN installed in your system. If you do not have one, you can choose it from these 5 Best VPNs for Windows.
Initial Steps:
Press window key search for Setting -> Network and Internet -> VPN -> Add VPN.
In Add VPN connection follow the listed Steps;
– VPN provider -> choose Windows built-in.
– Connection Name text box, write your name (will display when connecting).
– Put address for VPN server in server name text box.
– VPN Type, select how will use the VPN, for company work or for personal use.
– Enter Sign-in info or credentials, it might be like user name and passcode or any smart card.
Click on Save Button.
In case of any editing in VPN Connection or security, go for additional Settings to setup the proxy and other advance options.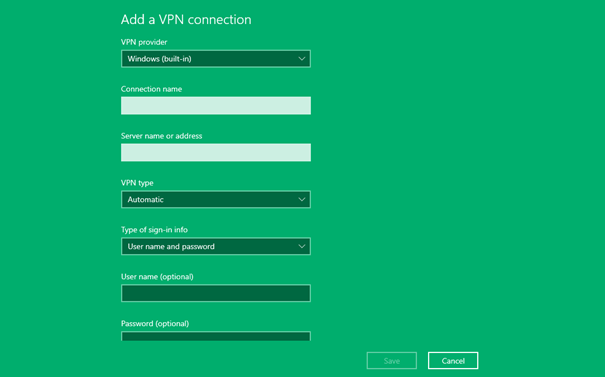 Connect to a VPN
After the creation of a VPN profile, you can now connect to your VPN.
Click on the Network icon.
Choose your VPN, and Click on Connect.
Enter your Credential and Click Next.
After a successful connection, the VPN name and with tag connected will display, or you also can check by click on the network icon to check you are connected to a VPN or not.
Which VPN is best for Windows 10?
Some Best VPNs for Windows 10 are listed below:
Express VPN
Express VPN provides complete compatibility with window 10, security, speed, natural GUI, and best customer Services. It uses highly secure encryption techniques and allows you to access restricted sites and networks. This application also allows accessing high-demanding applications like Netflix, HBO, Amazon Prime, Spotify, Entertainment players, and different gaming platforms.
Many countries banned social apps. But the public can access all these applications with the help of a VPN, and Express VPN provides a better response for these kinds of social applications like Twitter, Facebook, Instagram, Tinder, etc.
Nord VPN
Nord VPN is a highly reputed and reliable VPN for Windows 10. And if we talk about Nord VPN and Express VPN Comparison, then both sides are equal in their own domain.
Nord VPN serves in 59 countries with its more than 5400 virtual servers with highly secure connectivity and faster speed. The bandwidth of Nord VPN is open so, user can easily enjoy high data rates over the world wide web.
Surfshark VPN
One of the great features of Surfshark VPN is that it provides unlimited device connections. So, a single Surfshark subscription can reduce the cost for a family or small industry employees. For example, you can connect laptops, mobiles, tablets, etc. which are in the same house. So, it is recommended because of its affordability. But it will not connect with your smart LEDs and routers.
As this VPN is generally recommended for home or small office usage so, sometimes parents or employers don't want to play / access some channel or site on their laptops, tablets, or systems. So, in this VPN, you can add your approved list channel, IPs, or sites and block the rest of all others.
Hotspot Shield VPN
We will talk about the best shield from malware attacks and phishing sites; the one and only one is Hotspot Shield. Hotspot shield is affordable and offering 45 days money-back guarantee if you are not satisfied with its features and functionalities.
And compatibility with Windows 10 is fine, and according to user requirements, even they mention in their services how you could connect your VPN on Windows 10. Because this question usually is asked by every user.
Hotspot Shield VPN services work fine with maximum capability with Windows 10. The paid version of this VPN is affordable compared to its competitor and highly recommended by its users. Because Hotspot Shield never tracks your data, never trace your IPs and privacy. They are entirely in the dark about your data. The Hotspot Shield covers one hundred fifteen locations with 1800 virtual servers.
There are many military-grade encryption techniques and channels available to ensure new users' complete security and privacy. And Hotspot Shield provides safety from 57 million phishing and malware site to its users every day.
IP Vanish VPN
IP Vanish is efficient services providers for VPN connection on Windows 10. Configuration of IP Vanish is a highly secure configuration, stable connection, and user can access complete control of connectivity and privacy.
IP Vanish provides the feature of 'Scramble', which help the user to hide himself that you are using a VPN. This functionality provides security when you are in highly censored countries.